Commsec provide two solutions for Vulnerability Threat Management – Rebasoft & AlienVault
Intelligent automation of your security with Rebasoft​
Automate remediation
Whatever the security controls you use; ensures that all devices are compliant, and that security gaps can be rectified. Fast.
Control rogue devices
Real-time vigilance, identifying devices taking action based on the threat level and providing the ability to remove from the network if required.
Leverage existing systems
Organisations have a surprising number of existing systems. Threat Auditor can dynamically interrogate and cross-reference key facts in order to take decisions.
Realise benefits quickly
Build powerful rules that exploit the probe-less, agentless, interaction with your infrastructure. This means quick deployment and low cost of ownership.
Efficient
Installed as a web application, Threat Auditor is easy to use and maintain, and makes efficient use of server resources
System Environment
Threat Auditor requires Security Auditor and provides the rules and automated processing facilities.Where required, Rebasoft has a solution for resilient operations based upon an optional Rebasoft hardware appliance. This ensures that organizations that require 24x7x365 operations can rely on Threat Auditor.Please consult the system requirements for each of the individual components to ensure optimum performance.
What is Threat Auditor?
Rebasoft's Threat Auditor is a solution designed to improve IT security operations. Threat Auditor allows you to automatically make decisions and take action based upon rules to meet your organisation's security needs. Organisations deploy multiple security control systems, but no single tool can do everything, which is why Threat Auditor is so useful.Threat Auditor is a flexible system that can take information from a wide variety of systems and take decisions based upon what it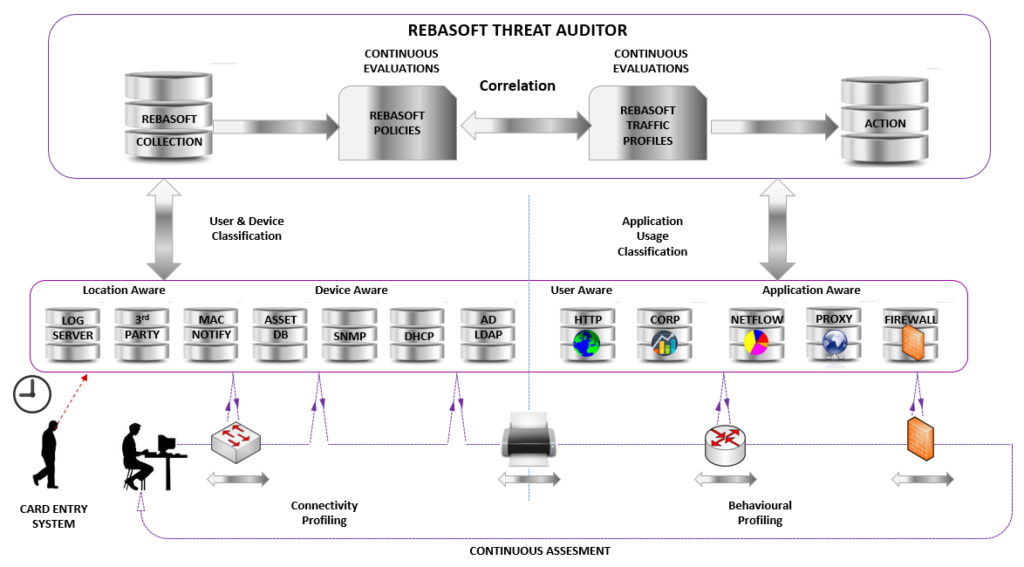 Key Benefits
Continuous risk assessment 24×7 automated monitoring and assessment of all devices as they connect to your infrastructure; providing confidence that you are in control even when things change.
What can I use Threat Auditor to do?
Rebasoft's Threat Auditor helps automate multiple facets of IT security operational processes.
Risk management:
Using information discovered by Security Auditor, decisions and actions can be automated based on predefined rules
Ensure continuous compliance based upon risk classification vs current behaviour
Link and cross-reference against reliable information sources
Provide policy compliance for BYOD initiatives
Improve security by identifying and managing rogue devices
Improve security controls:
Ensure relevant devices have sufficient security controls (eg DLP)
Combat Malware by identifying potential zero-day threats
Issue active commands to the infrastructure if devices are non-compliant
Data leakage:
Identification and alerting to unusual / unauthorised
types of traffic from particular types of devices
Accelerated Incident Responsed and Threat Management with AlienVault
AlienVault Unified Security Management (USM) helps you achieve coordinated threat detection, incident response and threat management with built-in essential security capabilities, integrated threat intelligence from AlienVault Labs, and seamless workflow for rapid remediation. Consolidating threat detection capabilities like network IDS and host IDS with granular asset information, continuous vulnerability assessment, and behavioural monitoring provides you with the complete view you need for effective response.
With AlienVault USM for incident response and threat management you can quickly
Identify, isolate, and investigate indicators of compromise (IOCs) before damage can occur
Correlate security events with built-in vulnerability scan data and AlienVault Labs Threat Intelligence to prioritise response efforts
Gain essential insight into attackers' intent as well as techniques
Respond to emerging threats with detailed, context-specific "how-to" guidance for each alert
Validate that existing security controls are functioning as expected
Demonstrate to auditors and management that your incident response program is robust and reliable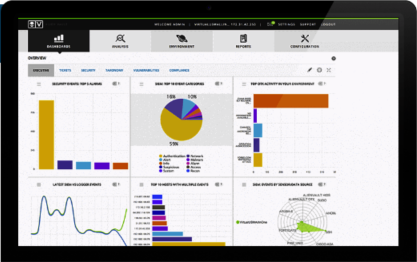 Contact us now to discuss the best product for your needs.
B109, The Linc,Blanchardstown Institute of Technology, Dublin